04-12-2019
That's a wrap at the Ricoh Arena
Last week was a hectic one for Shurtape – and we're not talking about Black Friday!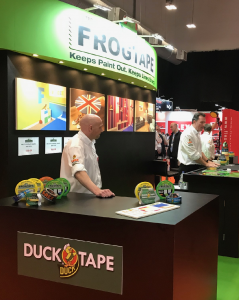 The team took off to Coventry to join the Painting and Decorating Show for another year – and we took all our popular products along with a series of giveaways and exclusive offers.
This show is always a highlight in our calendar and this year was possibly the best yet, with even more visitors to our stand than usual.
For two days, we chatted and met with hundreds of other professionals working in the painting and decorating industry. Our eye catching stand had a great location in the Ricoh Arena and our fantastic demonstrator, Andrew Dickens, had audiences 'gripped' with a series of great "How To's" using FrogTape.
A huge thanks to the organisers and everyone who came to say hello  – we're already looking forward to next year!
Categorised in: Uncategorised