The 10 Commandments of Home Décor Planning as Told by Taniya Nayak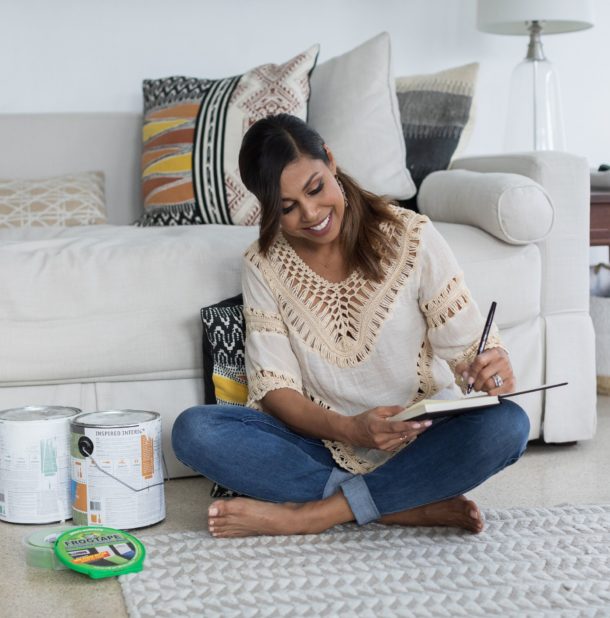 When it comes to interior design, no matter how many episodes of "Fixer Upper" we watch, sometimes we all get stuck, not knowing how to make our design dreams come true. So, we asked Taniya Nayak, celebrity interior designer and FrogTape® brand painter's tape spokesperson, to provide ten must-follow tips for conquering your next home décor project. If there are home design rules to live by, make it these ten.
1. Do Your Research
It may sound like homework, but it's one of the best parts! With platforms like Houzz and Pinterest, finding inspiration is as simple as a search and a screenshot. This is probably the most important step, as it will fill your mind with gorgeous visions you may never have thought of on your own.
2. Find Your Style
If you're struggling to pinpoint a design style, Nayak suggests taking a look inside your cupboard. Which types of outfits and colours do you gravitate toward? If you generally wear neutrals, stick to this palette for your décor. If you love bright colours and prints, you'll likely appreciate a colourful printed sofa or bold-hued walls. For those somewhere in between, opt for neutral shades on larger pieces and add pops of colours through décor pieces and accent walls.
3. Create a Budget
Make a list of every item you think you'll need for your refresh. Allocate a rough amount of money for each will help you estimate a project budget and can keep you on track when using it as a reference throughout the renovation.
4. Use The Right Tools
DIY projects can save money, but don't skimp on the tools needed to ensure an expert-like outcome. For example, when painting, make sure to use a premium painter's tape. Whether you're taping off skirting boards and architraves, or creating decorative patterns on walls and furniture, FrogTape® painter's tape makes it easy to achieve the sharpest paint lines possible and professional-looking results.
5. Pick Paint Shades Last
A secret of Nayak's is to shop the look you want by finding the décor pieces you need, like a rug or duvet. Once you have all your goods, she suggests laying them on the floor and then selecting a paint colour based on those accessory finds.
6. Know When to Call an Expert
When renovating a home, sometimes DIY mistakes will cost more than if you had hired a pro in the first place. Complicated tasks like plumbing, tiling and electrical work should be left to the experts.
7. It's Your Home
It's great to get opinions from trusted friends that have a similar style to yours, but remember that you're the one living in your space. Nayak says to trust your gut and go with what you love!
8. Accessorise
Don't forget about finishing touches such as artwork, plants and unique vases, as these items help make your house a home.
9. Pay it Forward
There's no better feeling than donating old blankets, furniture and fixtures to charity so someone else gets the benefit while you enjoy your new items.
10. Enjoy Your Gorgeous Home!